Taste the good life
Restaurant & Bar in the Ullrhaus

Enjoy a fantastic evening with us at Ullr Casual Fine Dining.
We look forward to welcoming you
from Saturday to Wednesday.
We kindly ask you to make a reservation under T +43 54 46 35 200.
Franziska and Michael with the Ullrhaus team
What makes a good day even better?
Ullr is fine.
Great food and fine drinks. Follow us to our À-la-Carte-Restaurant 'Ullr - Casual Fine Dining' and to 'Ullr Bar'.
Casual Fine Dining in the Ullrhaus
In the Ullr restaurant we celebrate what has always been supremely important to us - togetherness. The comfortable À-la-Carte-Restaurant is a meeting point after a day in the mountain and a place where you get to be indulged, with delicious meals made using the best ingredients the region has to offer.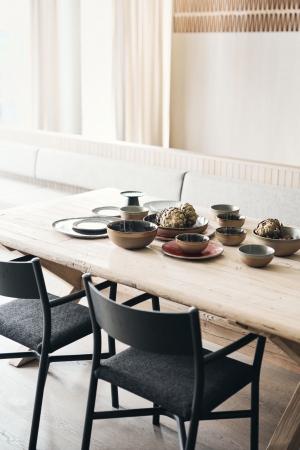 A master
at the stove
When your host Michael Gfall and his team get cooking in 'Ullr - Casual Fine Dining', then we know that something exceptional will soon be coming to the table. He combines Nordic and Alpine influences for you, creating dishes that magic up a happy smile on your dial.
Let's just sit
for a while

We have already said, and maintain still, that design and comfort, well they go hand in hand. Ultimately, Ullr Restaurant isn't just a place for visual and palate-pleasing, it should also be a favourite place for your soul, which is why our restaurant in the Ullrhaus exudes Nordic simplicity and elegance, yet is also manifestly cosy.